Conference and Workshops
ICALP 2010 will take place at the Cité Mondiale (French website, sorry):
Bordeaux Cité Mondiale
18 parvis des Chartrons
Bordeaux, France
Tél. (+33)5 56 01 75 75
It is located downtown Bordeaux, close to the tram stations Capc Musee d'art Contemporain, on line B (just in front), and Les Quinconces, on lines B and C (10 minutes away). See the maps at the end of this page.
Getting there
From the airport
Here is a map of the airport.
The public bus line Liane 1 will take you directly to Bordeaux downtown (stop Les Quinconces, 10 minutes walk or one tram station from the conference location). The ride is about one hour long, and Liane 1 departures are every 10 minutes (on weekdays) to 30 minutes (Sundays or early mornings); more precise schedules are available here (PDF, in French). Ticket price is about 1 euro, and can be purchased on the bus.
The Jet'Bus shuttle service is another way of going to Bordeaux from the airport. The Tourism Office stop of this shuttle is very close to Les Quiconces (beware, the bus driver will stop there only if requested). The journey is about 45 minutes long, buses depart every 45 minutes. Note that the bus ticket is sensibly more expensive than the price of public transportation.
Of course, taxis and car rentals are also available at the airport.
From the train station
The train station is named Bordeaux Saint Jean, and is served by the tram line C. A direct ride to Les Quinconces is possible, and is roughly 10 minutes long. Trams are available from 5 AM to midnight, and depart every 5 minutes for most of the day.
Hotels
It is possible to book rooms for the conference hotel, conveniently located in Bordeaux downtown. Note that there is no special rate for conference attendants. Mercure Bordeaux Cité Mondiale Centre de Congrès
18 Parvis des Chartrons
33080 BORDEAUX
FRANCE
Tel. (+33)5 56 01 79 79
Fax. (+33)5 56 01 79 00


The hotel Mercure Chartrons ( 81 cours Saint louis ­ 33000 Bordeaux, 15 minutes walk from the conference site) offers a special rate for ICALP 2010 : Single room: 105 € - Breakfast: 15 €
To make a reservation: print and return the booking form by June 7th.
You may also book other hotels, please have a look at the Tourist office webpage, and especially their hotels page. Any downtown hotel would be at a reasonable walking distance either to the conference location or to an appropriate tram station.
Maps
A quick map of the tram network: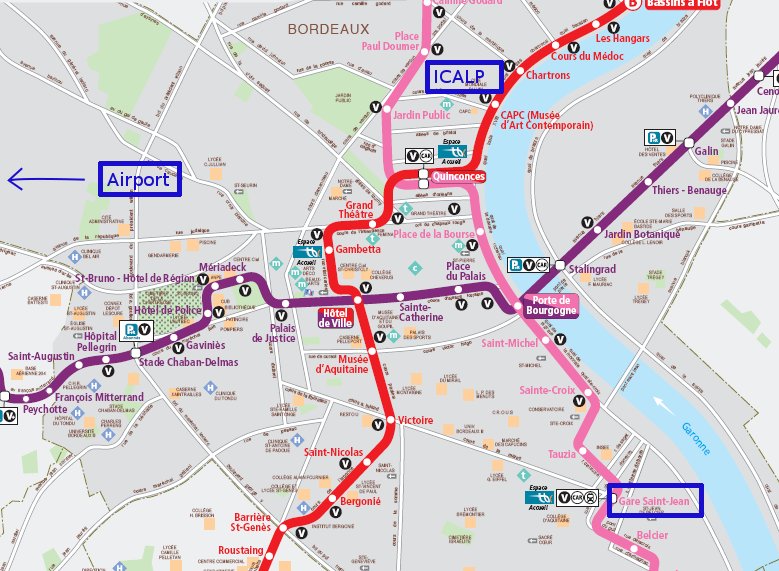 More precise maps:
Pictures
Some pictures of Bordeaux are available on this page.